guestbook
We like our guests to write in our guestbook because we believe that your impressions are the best recommendations
Here you can write your comments
David Mc Taggert, Hon.Chair, Greenpeace International :
Casa Valentina is a tranquil and quiet retreat with no one else near by, but only 10 minutes from Cortona. The views are wonderful. I know the area very well and highly recommend Winfried's Casa Valentina for a peaceful vacation.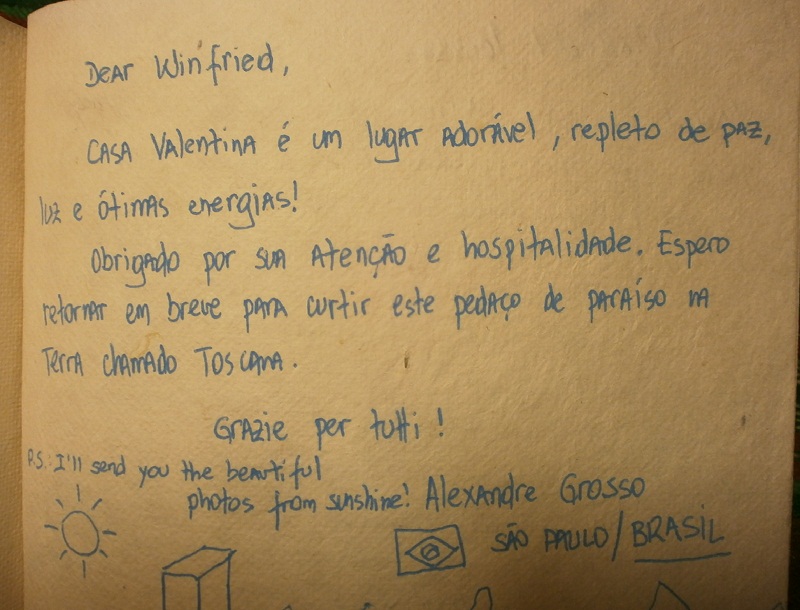 Mille Grazie! we had a very special week here in Casa Valentina . Your hospitality has made this feel like "home" very quickly. The olive tasting in Cortona was a great introduction to this authentic Tuscan commune. The wood fired pizza with your secret recipe was a highlight too.
We have had both snow - just a sprinkle - and lovely sunny days to enjoy. The drive to Montepulciano gave us a taste of the Tuscan landscape and the wonderful wine, cheese and prosciuto. Coming home to this mountain hideaway has given us a sense of peace and beauty. Winfried, we really have enjoyed everything - especially the warmth of the welcome from you and Cathy. Thanks for all of it and for the great music. The children have fallen in love with this mountain as we have. We hope to return soon and enjoy more of it - Next time in summer for a change. Warm regards Larry Marshall, Australia - Melbourne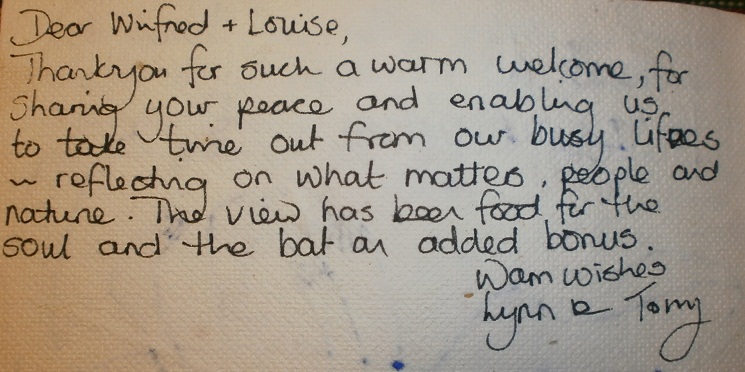 Neither words nor pictures can do justice to the Valentina. It can only be experienced, and stored in the memory like a jewel while we count the days until we can return.john, maurenn and Kitty from Norwich and Hugh from London. ...two weeks is not enough!
... from the moment we arrived and were greeted by Winfried and invited to share pizza we knew we had arrived in the right place. The fantastic views, the calm and tranquility speak for themselves. this is a wonderful place in the middle of all the best Tuscan sights. Thank you for looking after us and sharing your little bit of paradise with us. Enjoy your break and make sure you get to New Zealand, australia and Vanuatu. All the best , Samantha , Claire Tayne
...a completely different week away from busy life in England. Thank you, Winfried. John and Judith Waterhouse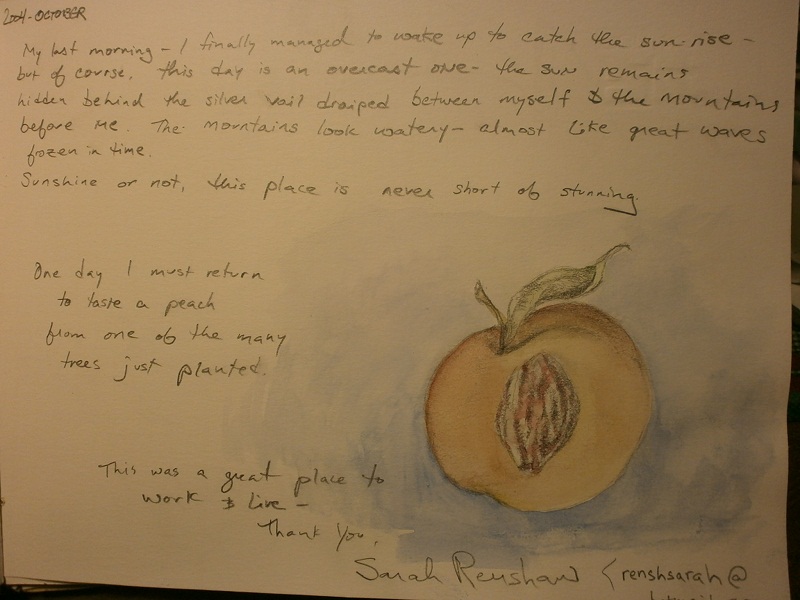 This mountain valley has been the paradise of our honeymoon. Thank you earth and thank you winfried for the sacredness of this place. The magic lives on. The kittens made admirable company as well as the silence ... And thank you for the adventure on the lake. May peace be with you, Winfried. From Cloe ancient houses, ancient hills. Deep silence, living forest. Magical stones hanging, speaking. The love of italian land maintained by an earthy German, enjoyed by and delighted by a newly-wed Anglo-Swiss-Welsh couple. The perfect place! Many thanks. Christian
dear Winfried, thanks for giving us such an unique experience on your farm ... it has been a mixture of many things - interesting, fun, peaceful, quiet - a great place for part of our honeymoon ...thank you for being kind, thoughtful and great to chat with - an excellent wwoof host ... good luck with everything you do in the future .... love Emely and Gary
Neither words nor pictures can do justice to the Valentina. It can only be experienced, and stored in the memory like a jewel while we count the days until we can return.john, maurenn and Kitty from Norwich and Hugh from London. ...two weeks is not enough!
6.November 03,

Lieber Winfried,

die Ruhe, der Wald, Wanderungen, Olivenpflücken und toskanisches Essen in Hülle und Fülle bei Imperio und Anna-Maria, Holz machen, Pecorino und vino rosso, Pizza aus deinem Holzofen und die liebe Miezi haben uns einen unvergeßlichen Herbsturlaub beschert.

Liebe Grüße, Justus und Alex
You have a very special place here and thanks for sharing it with us. I adore your teepee place and could spend hours, days even weeks looking all over the valley, watching the moods of the mountain change. Gweneth Marshall, Australia
Casa Valentina is a secluded hideaway in the mountains above the ancient city of Cortona.
The privacy and tranquailty are just what the doctor ordered. The natural beauty of the surrounding mountains will take all your cares away. The sense of history is everywhere. I recommend Casa Valentina with out reservation. Go! You'll love it!
Steve Collins
Casa Valentina is a magical place. You will feel like you've stepped back in time. The atmosphere will both inspire and calm you. Winfried is a thoughtful host and will take good care of you. It's the best way to experience the charm of Tuscany. Cathy Harrington
My last wwoofer, Laura from Australia, wrote in my guestbook:
After a week on what could be mistaken for a slave labour camp (Laura stayed at another wwoof -farm before,Winfried) arriving at Casa Valentina was like finding paradise! We learnt how to construct a tipi and how to stop the winds blowing it away. We stacked, unstacked and restacked enough wood to get you through this winter ... and the next winter... and the one after that ... and maybe even the next one! I became the chief walnut cracker and just managed to keep up with the demand for eating them! Sailing on lake Trasimeno was spectacular, Jazz in Perugia was wonderful, exploring and relaxing with coffee in Cortona was fantastic and the meals were ALWAYS BUONISSIMO! I´ve had a great, relaxing, insightful, enjoyable WWOOFing time here. Laura Binks, Australia,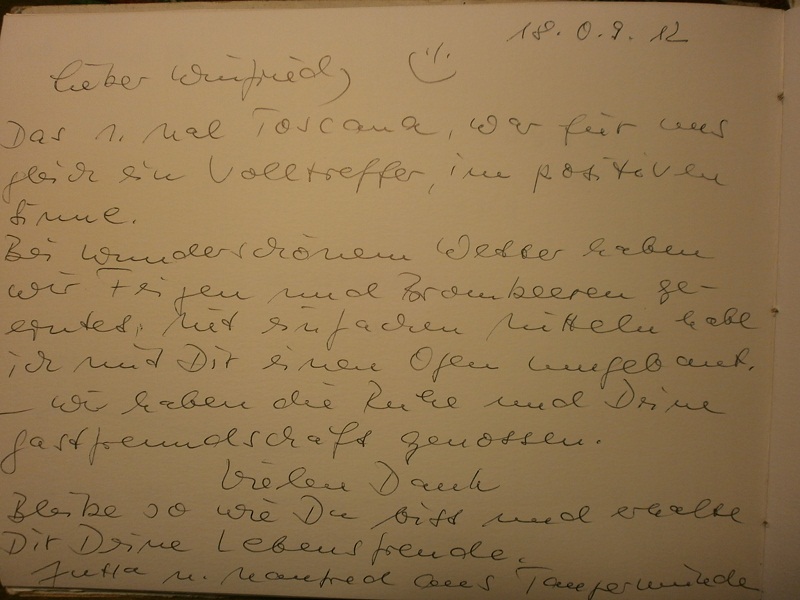 Jade und Lilya (6 und 8 Jahre) schrieben:
Uns hat es hier sehr gut gefallen. Die Häuser und die Landschaft sind sehr schön und es ist alles da, was man braucht, nur den Skorpion im Zimmer nicht. Das Pizzafest hat uns sehr gefallen. Die Pizzas haben uns so gut geschmeckt wie keine anderen. Wir haben abenteuerliche Wanderungen gemacht. Leider hat es die ersten Tage so viel geregnet. Aber dann wurde es ja doch noch schön. Viele liebe Grüße Deine Jade und Lilya.
Auch nach 3 Wochen ist es uns hier nicht langweilig geworden - anders als unseren Nachbarn die aus Langweile abgereist sind. Unten bei der Bäuerin gibt es lecker Salat, Basilikum und Eier zu kaufen und und einen kleinen Kräutergarten gibt es auch. Besonders gut ist das Draußenkino in Cortona . Viele Ausflüge bieten sich an, wenn Euch jemand von einem versteinerten Wald erzählt, geht lieber nicht hin, der Umweg lohnt sich nur für Experten. Nemo, Janosch, Claudia und Sabine
Heute ist leider der Tag des Abschieds. Es war wieder mal traumhaft schön hier, so daß wir garantiert wieder zurückkommen. Hund und Katze haben wir natürlich gut versorgt. Sie genießen den Aufenthalt hier wohl auch. Die anderen Tiere (Skorpione, ...) waren ebenfalls sehr nett zu uns und sind froh wenn sie in Ruhe gelassen werden. Sie lassen sich alle leicht fangen und draußen wieder aussetzen. Allen Leuten denen es hier genau so gut gefällt wünschen wir einen tollen, unvergeßlichen Urlaub! Helmut und Annette
....wo kann man die Seele besser baumeln lassen als da wo es nichts gibt außer Natur, Ruhe und morgendliches Vogelgezwitscher? Wenn´s dann doch zu ruhig wird bieten sich einige interessante Ausflüge an. Barbara
...ob die Woche kurz oder lang war kann ich gar nicht sagen. Sie war einfach schön. (Uschi)
Es hat uns gut gefallen in dem "kleinen Paradies der Stille". Tausend Dank auch Dir Winfried für den toskanischen Abend. Sicher einer der Höhepunkte des Urlaubs. Stephan, Nicki und Johannes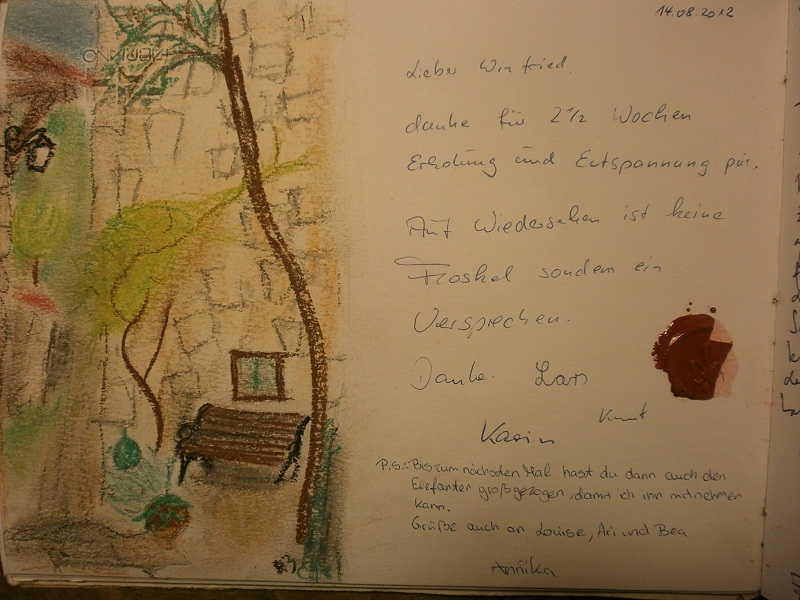 Hallo! Wir fanden es hier sehr gut. Die Katze haben wir Kali genannt. Hier wachsen gute schöne Walderdbeeren und Kirschen. Wir haben in den 3 Wochen nur einen einzigen Skorpion im Zimmer gesehen. Wir haben insgesamt vier Schlangen gesehen. Janosch (8)
...es ist wirklich traumhaft hier die Natur so nahe erleben zu können.... (A&R)
...die Ruhe ist himmlisch, die würzige Luft auch. Nach heißen Tagen in der Ebene (Kultur, Städte, See) freuten wir uns immer wieder auf die milde Luft und die angenehmen Temperaturen auf "unserer" Berghütte. die Hausschlange (muß wohl sowas sein wie das Ungeheuer von Loch Ness) haben wir nicht gesehen.... Tinka, Nana, Werner und Manfred
...wo die Zeit stehenzubleiben scheint und doch viel zu schnell vergeht... Annette
...eine Insel in den Bergen, ein Ort der absoluten Erholung..... Bernd und Uli
Also ich fand die Schmetterlinge einfach so, ja, so irgendwie unheimlich schön .... (Andrea)
Wer immer meine Armbanduhr findet (Ziffernblatt ohne Zahlen) möge sie senden an Holger T ...